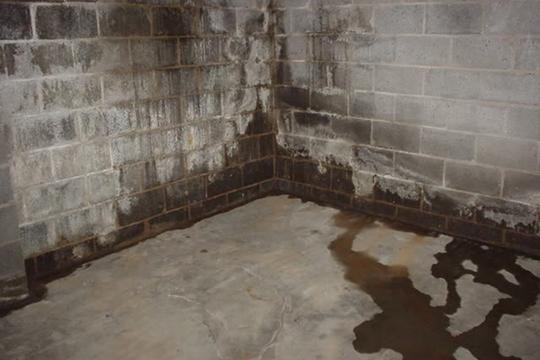 Stopping a basement leak can be as simple task, as long as you know that the problem isn't more serious. Here are a few relatively easy DIY solutions you can use to fix a leaky basement from the inside and outside:
Replace Window Wells: Replacing old or rusted window wells will give water one less possible point of entry and keep the soil away from your window openings.
Clean Gutters & Adjust Spouts: "Clean your gutters and extend downspouts to keep roof water far away from the foundation. You won't want to rely on this alone to keep your basement dry," says Finch.
Install a Dehumidifier: A dehumidifier won't stop basement leaks, but it will remove any excess moisture from the air.
Regrade Your Soil: Regrading the soil surrounding your foundation will help divert ground and surface water downhill, instead of into your basement.
Plug Tie Rod Holes: If you're certain your leak is coming from the tie rod holes in your wall, all you need to do is plug them using a compressed swell plug.
There are a number of fixes that your contractor may recommend, including:
Waterproofing Membranes: Your contractor may recommend installing a waterproof coating or membrane on either side of your foundation. According to Finch, this "helps prevent moisture and humidity from passing through. This will also improve the appearance of damp, stained, chalky, or flaky walls."
Exterior French Drain: Exterior French drains redirect surface and groundwater away from a basement. However, these drains are difficult to install with already-built houses as it requires digging up the perimeter of the home and working around utility lines.
Interior Drain & Sump Pump: A more permanent solution for chronic leaks is to install interior drains under your basement floor. These drainage systems are often paired with a sump pump that pumps the water out of your basement.
These solutions for basement seepage involve more time and money, but they all offer long-term fixes for weeping walls and other basement leaks. A good contractor will walk you through the project beforehand and answer any questions you have regarding costs and timing. No matter how frustrating the repair process gets, remember that afterwards you'll have a nice, dry basement to enjoy.