7 Tools Every New Homeowner Needs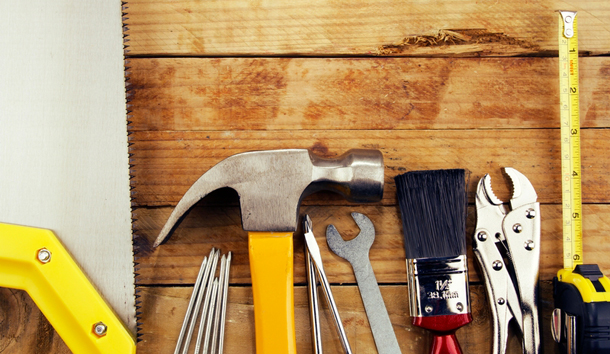 If you're a new homeowner, prepare to be amazed by all the things that can break or go wrong. And yep, they're now your problem since there's no landlord to call. But by keeping a few specific tools at the ready, you'll be able to handle the most common home repairs. Here are 7 tools you should have as a new homeowner.
1. A set of screwdrivers
Want to swap out your light switch plate or open a stubborn battery compartment? You'll need a set of screwdrivers that have different sized and shaped heads to handle any situation.
Cost: 
For less than $20 at most big box stores, you can get a 10-piece set or an all-in-one variety (which means that one handle can be fitted with multiple tips).
2. A hammer
There's no doubt you're going to be hanging pictures and probably assembling furniture too. Choose a hammer with a claw that allows you to pull out the nails (you know, just in case your hammering goes wrong).
Cost: About $10
3. Adjustable wrench
An adjustable crescent wrench will come in handy for tightening or loosening nuts and bolts, which will be particularly important for leaky plumbing fixtures. You don't have to know much to use one 
—
 just turn the dial to get to the width you need.
Cost: About $15
(Note: The 3 tools above can be purchased in an all-in-one toolbox that may also come with an overwhelming selection of nuts, bolts, screws, nails … and other stuff.)
4. A flashlight
Sure, your smartphone has a flashlight, but sometimes the power goes out (or … maybe the phone isn't always fully charged, ahem). And that makes a battery-powered flashlight extremely handy. Its round shape also makes it easier to get into tight corners. And let's be honest: if your flashlight hits the ground, it's a lot less expensive to fix than a cracked smartphone. You also can check out mounted lights for better lighting (find them in the "work lights" section).
5. Drain declogger
You may be shocked (and completely grossed out) by how often your shower or faucet drains get clogged. Thankfully, there's a handy tool for pulling out gunk, which you can buy online or at your local hardware store. Its innovative design resembles the stem of a rose with long, pointy thorns to help trap hair and nastiness.
Cost: 
Under $5
6. A bucket
Whether you use it to fling off the yuck from the drain or fill it with solution as you 
clean your home's windows
, a bucket will serve a host of uses.
Cost:
 Under $5 for a decent-sized model
7. A step stool
You'll reach for a step ladder more than you might think: when you're reaching into the high cabinets for the china to impress your mother-in-law, or when you're removing cobwebs from light fixtures. Or even when you're making your backyard sparkle with twinkly lights. Look for a step ladder with grips on the bottom to ensure that it stays secure for your safety.
Cost: 
 About $25